Triplet Triplet Annihilation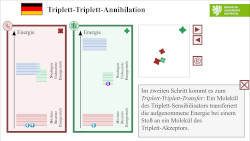 This animation shows the individual steps leading to triplet triplet annihilation - a phenomenon in which longer wavelength light (e.g. green light) is converted into shorter wavelength light (e.g. blue light).
© N. Meuter, M. W. Tausch
---
The HTML5-Logo by the W3C is used under the terms of the Creative Commons 3.0 - license.
Flash Animations need the adobe flash plugin.